Como ayudar & participar

How to help...

Apadrina un caballo - Sponsor a horse
Apadrinar consiste en que una serie de personas aportan una cuota mínima de 8€ al mes para compartir el coste total de los cuidados y mantenimiento del caballo apadrinado (comida, veterinario, mantenimiento de instalaciones, etc.)
Podrás ir a visitar y cuidarle, las veces que consideres oportuno, concertando la cita previamente con nosotros.
También incluiremos tu nombre en la web al lado del animal que hayas apadrinado.
Te mandaremos una carta de gracias con una foto de tu caballo apadrinado y podras visitar le cuando quieras, pasar tiempo con el, llevarle de paseo a pastar, cuidarle, cepillarle, darle un poco de amor y cariño..


Imprime el PDF, rellena con tus datos, y nos lo mandas a Asociación Ayuda Caballos Gredos, C/Viña 6, San Lorenzo de Tormes, Barco de Avila. Avila. 05696
Asi podemos mandarte la carta de gracias!
También lo puedes escanear una vez cumplimentado y nos lo mandas por correo - [email protected]
Domicilie los pagos mensuales - No. cuenta - ES8730161071832271462224 - Caja Rural Salamanca.
Sponsoring a horse consists in a monthly donation of 8 euros, helping to share the costs of the upkeep and care of your horse. You are free to visit and help care for your horse whenever you like, after talking with us to confirm the day of visit. We will also put your name on the website next to the horse you sponsor. We will send you a thankyou letter and recent photo of your horse every six months. We would love you to come and meet your horse in person, get to know, groom, spend time with...they spend the most of their time being horses but now and again enjoy and benefit from (perhaps not as much as we do..) love and attention from understanding people.

If you wish to sponsor a horse for yourself or as a gift please fill out the PDF form and send it to Asociacion Ayuda Caballos Gredos, Calle Viña No.6, San Lorenzo de Tormes, Barco de Avila. Avila. España. 05696

You can sign up for the monthly donation of 8euros a month using Paypal -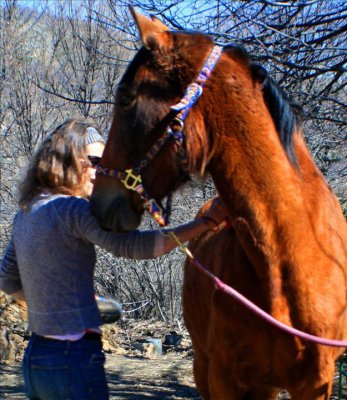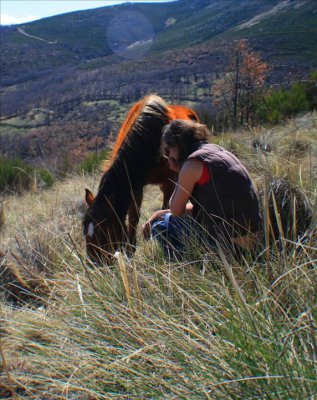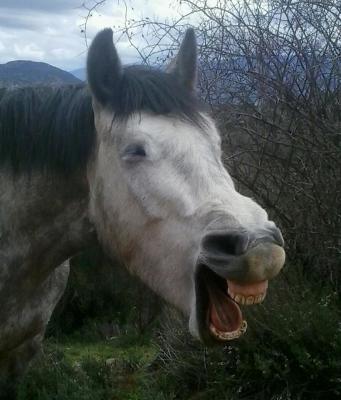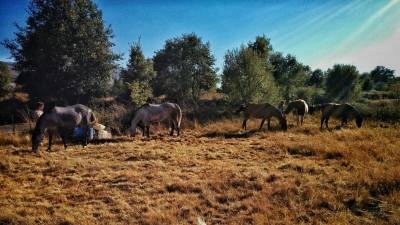 Hacer un donativo de dinero o materiales - Make a donation

Aparte de donaciones economicas tambien buscamos materiales de caballos y su mantenimiento, eg. mantas, limpieza, vallas, equipo y comida.
Si haceis un donativo porfavor mandarnos un correo electronico para poder daros las gracias y estar en contacto. (no es obligatorio)

Cualquier cantidad es util, no solo para levantar este nuevo proyecto, pero en el futuro y siempre, todos los fondos se usan para el bienestar y salvacion de los caballos.

No.cuenta - ES8730161071832271462224 Caja rural Salamanca.

If you are kind enough to make a one off donation, please send us an email letting us know so as to be able to say thankyou and keep in contact (not obligatory) Any amount is much appreciated, not only to get the project off the ground, but also at any point in the future, as all funds are used for the wellbeing and salvation of horses.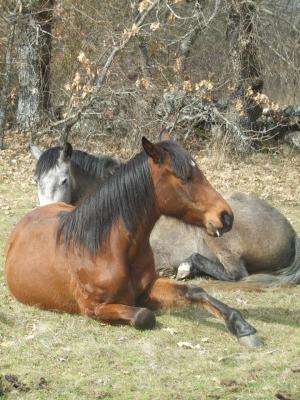 Realizar una ruta a caballo - Come riding with us...
Nuestros caballos sanos, fuertes y entrenados estan disponibles para ir de paseo por el campo montados, es una manera de recaudar dinero para
ellos, y
forma de salir juntos y hacer ejercicio fisica.
Ofrecemos paseos de dos horas en grupos de 4 personas max. en el campo. Por zonas de rio (Rio Tormes), bosques de encina con vistas a la sierra de Gredos, andando por caminos de arena antiugos y llanos. Montando caballos jovenes, sanos, tranquilos domandos por la doma natural por nosotros y acostumbrados a niños y principiantes. Monturas inglesas, limite de peso de jinete 85kg. Con guia titulada, Ingles/Castellano y con 15 años de experiencia.
Tambien ofrecemos clases ideal para niños de dos horas. Incluye 1 hr aprendiendo cuidar y manejar al caballo y 1hr montando.
Las actividades se realizan para recaudar dinero para ayudar mantener a los caballos y su entorno. Las tarifas son 25e - rutas y clases de duracion 2 horas
35e - ruta 3 horas.
Ven a disfrutar, relajar o aprender con la naturaleza, caballos maravillosos y la tranquilidad de esta zona rural y salvaje.

Horses that are healthy, willing and trained are available for riding out. Its one of our ways of raising money for the horses but also a positive means of doing excercise, getting out and about and spending time together. The horses are ridden bitless and barehoof with english tack, we also have a weight limit of 85kg.
If you would like to come for a short (or longer) break, all can be arranged and you can enjoy spending time with the herd, helping to care for them all and riding out in this glorious part of Spain with the younger horses trained by us. Please get in touch for more information.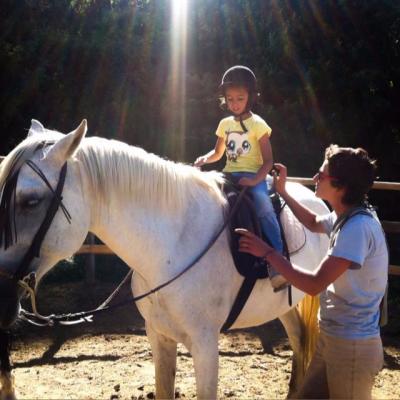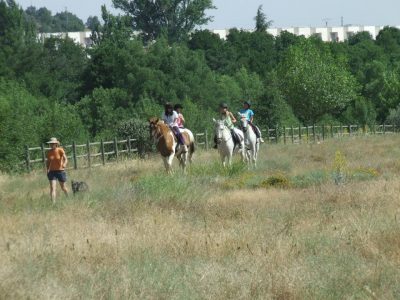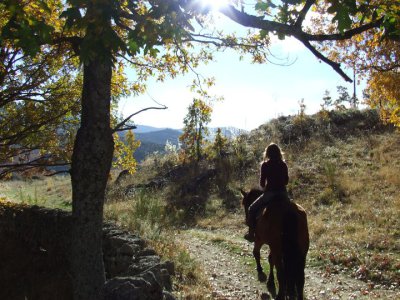 Patrocinar & colaborar como negocio, empresa o servicio publico
- Sponsor & collaborate as a business, company or public service..
Por

una donativo anual de 50 euros pondremos tu publicidad en nuestra web, aparte de recomendar personalmente, y reciveras una pegatina reconociendo to participacion con esta causa.
For an anual donation of 50euros we include your publicity and company on our website and you will receive a sticker stating your collaboration with this cause. Please get in contact with us regarding this option. [email protected]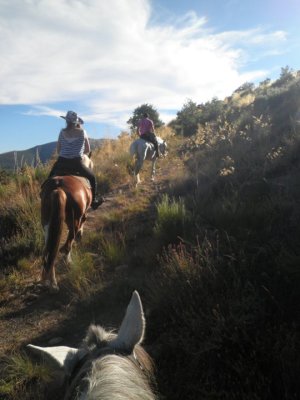 Teaming es cuando aportamos solamente 1 euro al mes, y juntos ayudamos la causa que en este caso son los caballos.

Teaming is when we give only 1 euro a month, and together can make a difference.

Please join our teaming group! Thankyou.