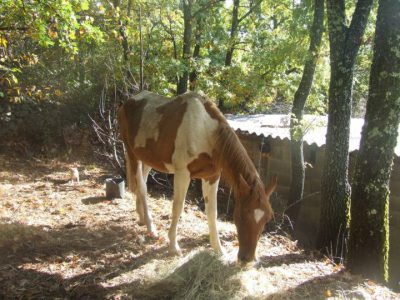 APADRINAR/SPONSOR!

Flecha tiene 7 años fue rescatado en Octubre 2012 de maltrato, malnutricion, encerrado sin comida. Se recupero..es listo, lider de la manada,cariñoso, expresivo, noble...un caballo muy especial. Fue el primer caballo que rescatamos en un estado realmente peligroso de salud.
Arrow, 7 years old was rescued in Oct. 2012 from neglect, malnutricion, closed in a small corral with no food, found in a terrible condition. He recovered well, and with a fantastic attitude. He is clever, leader of the herd, kind, expressive, friendly....also our first rescue case in a serious life threatening condition.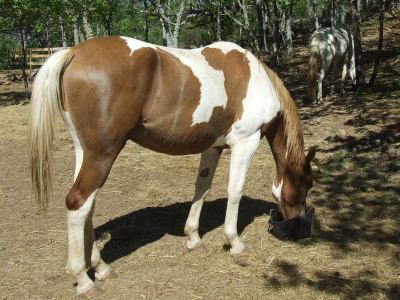 Padrinos/as - Sponsors de Flecha:
Matt Haswell. London, UK.
Alai Muñoz Estriegana. Gredos.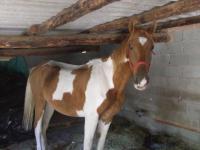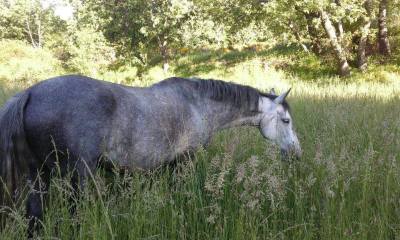 Luna
(Moon)  - APADRINAR/SPONSOR!
Luna llego en Febrero de 2016. Tiene 7 años. Su dueño anterior lo cedo a nosotros por no poder seguir con ella y sabia que aqui tendra un buen hogar siempre. Es una yegua generosa, dulce, tranquila y muy confiada con las personas.
Luna arrived in February 2016. She is 7 years old. Her previous owner handed her over to us as he could no longer keep her and didnt have other options. She is a generous, sweet, sensible and quiet mare who trusts alot in people.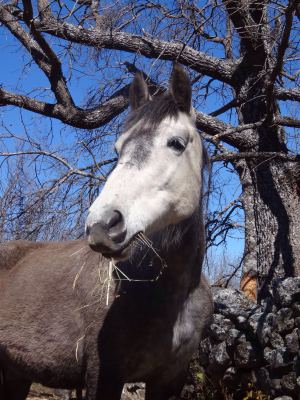 Padrinos/as - Sponsors de Luna:

Leo Jimenez Alarcon. Madrid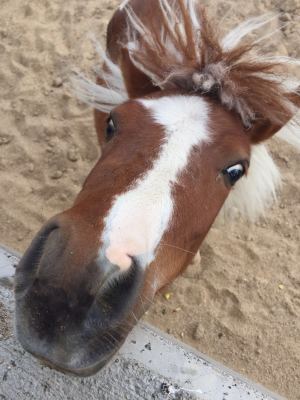 Brave

APADRINAR/SPONSOR!

Brave le hemos rescatado en Enero 2017 junto con Azar. Tiene 2 años y llevaba mucho tiempo en una perrera municipal en Madrid, despues de estar encontrado en condiciones muy malas. Es listo, encantador, valiente y con mucho energia.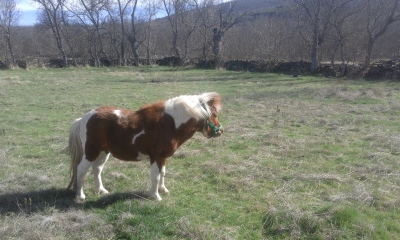 Brave was rescued in January 2017 alongside Azar. He is only 2 years old and had been in the government dog pound for a long time, after being taken in from terrible conditions. He is intelligent, friendly, brave and lively.

Padrinos/as - Sponsors de Brave :

Manuel Torres Meson. Madrid.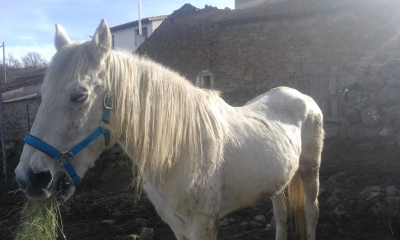 Azar

APADRINA - SPONSOR!

Azar fue rescatado y traido desde un barrio de Madrid junto con Brave. Abandonado y sin cuidar. Tiene 23 años y se nota que ha llevado una vida dura y llena de desgustos. Necesita un cuidado mas especial. Es noble, listo, cariñoso y amable. Le merece ahora una vida tranquilo, seguro y en paz.
Azar we rescued and brought from Madrid alongside Brave. He was abandoned and neglected. He is 23 years old and shows signs of having had a very hard life. He requires special attention and care. He is quiet, clever, gentle and sweet. He deserves to spend his retirement here in peace and security.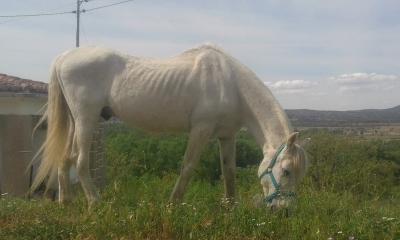 Padrinos/as - sponsors de Azar :

Jordi Pascual Fortuny - Madrid.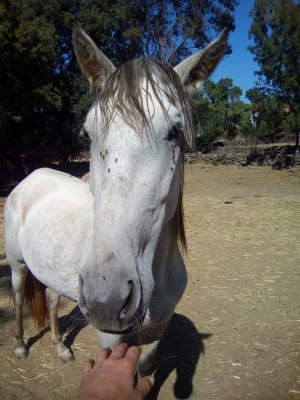 Oliva llego junto a su hermano Choco en Julio 2017. Ella es una yegua Española de 4 años. Su dueño lo cedo a la asociacion por no poder seguir con ellos, y por no venderlos por miedo a donde podran terminar. Ella es dulce, curiosa y tranquila.
Oliva was handed over to the association alongside her brother Choco. She is a pure Andalucian mare, 4 years old. Their previous owner could no longer keep them and didnt want to sell them on for fear of where they may end up. She is a sweet calm and curious mare.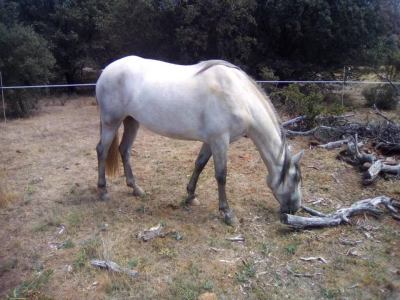 Padrinos/as - sponsors de Oliva: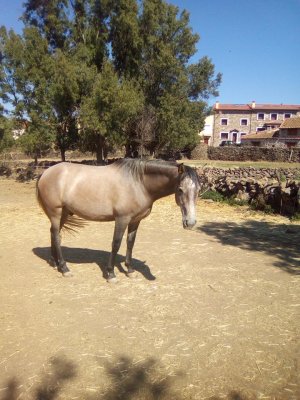 Choco

APADRINA - SPONSOR!

Choco el hermano de Oliva, llego a la vez, tiene 5 años, Español cruzado con Silla Frances. Es un caballo super listo, guapo y valiente.
Choco is Oliva´s half brother. He is 5 years old and very clever, handsome and brave.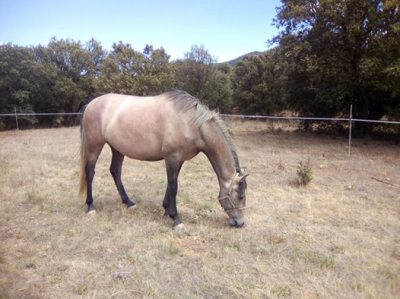 Padrinos/as - sponsors de Choco:
Gina, Gonzalo & Rafa. Barco de Avila.

Adrian . Barco de Avila

Siena. Madrid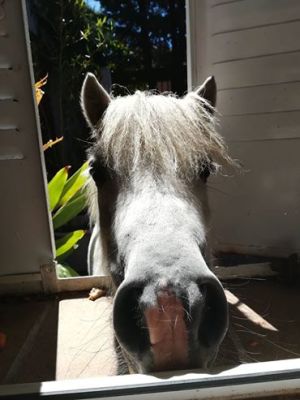 Skye

Skye llego a la protectora los finales de verano de 2017, rescatado por una mujer llamada Beatriz. Maltratada y lesionada. Tiene 5 años, es curiosa, traviesa y encantadora!
Skye arrived thanks to a woman who lived nearby and managed to rescue her. Badly treated and injured. She is 5 years old, curious, fun and lovely!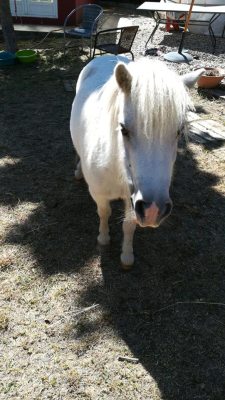 Padrinos/madrinas de Skye:

Beatriz - Avila

Sonia & Ana - Madrid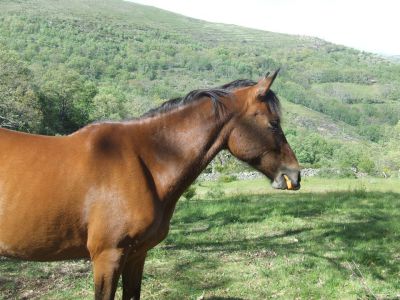 Ireland fue comprada a tratantes al final del 2012, estaba atada de un pie con una cuerda 24 horas al dia. Es una yegua muy buena y amable.  Adoptado junto con Mora en Noviembre 2016. Gracias Nur y Fer!!
Ireland was bought by us from local dealers at the end of 2012. We saw her tied by a rope round her leg 24 hours a day. She is a lovely little mare who was lucky to be adopted alongside Mora in November 2016.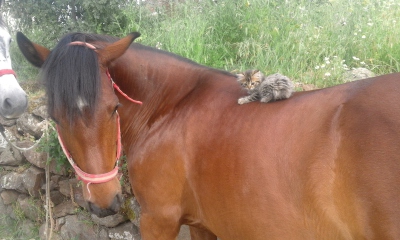 Sonic - Adoptado!

Sonic fue el primer potro rescatado en el año 2009, el tenia pocas meses de vida. Fue regalado por un ganadero, no sabemos que habra sido de el si no le hubiesemos adoptado. Dijeron que su madre habia muerto y ademas que el no tenia cola porque se le habia comido un zorro. Estaba malnutrido, asustado y muy pequeño. Ahora esta fuerte, confiado, super simpactico y encantador con los niños!
Ha sido adoptado por Martina y su familia en Deciembre 2016, Martina es una niña que lleva años conociendo y montando en Sonic...son mejor amigos los dos y es una familia perfecta para Sonic. Se queda con la manada en pupilaje.
Gracias Martina y su familia.
Sonic was the first foal we rescued in 2009, he was just a few months old. He was given to us by a cow farmer, we were told that his mother had died and that he didnt have a tail because it had been eaten by foxes..he was skinny,scared and very weak. Now he is strong, trusting, very friendly and adores children!

Sonic has been adopted by Martina and her family in December 2016, Martina has been getting to know and ride Sonic for a few years...they are best of friends and are the perfect family for Sonic. He stays with the herd at livery. Thankyou to Martina & family.

Mora es una yegua de unos 11 años, fuerte,valiente, noble, dulce... Ella fue cedida a la protectora por falta de poder mantener la y posible destino al matadero....fue adoptado Noviembre 2016, con nueva casa marivilloso en un pueblo de la zona, Gracias a Nuria & Fer.

Mora is a strong, brave, sweet and noble mare of about 11 years, never been ridden..she was handed over to us as her owner could no longer have her, and saw sending her to slaughter as a possible solution (the norm) . She has found a fantastic new home and was adopted in November 2106. Thankyou Nuria and Fer.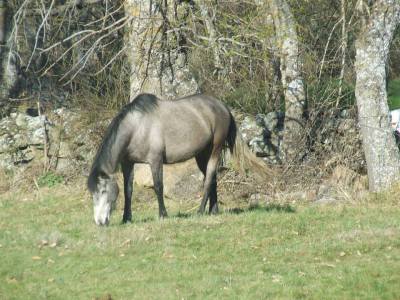 Bruma es una yegua que no forma parte de la protectora, pero vive con la manada. Sus necesidades y gastos estan cubiertos. Lleva con Carmen 5 años. Tiene 7 años, es una yegua muy fuerte, valiente y sincera.
Bruma is a mare who belongs to Carmen and doesnt form part of the sanctuary, although lives with the herd. Her needs and costs are covered. She has been with Carmen for 5 years. She is 7 years old, a strong, brave, sweet and strong willed mare.